State employee numbers drop to 17 year low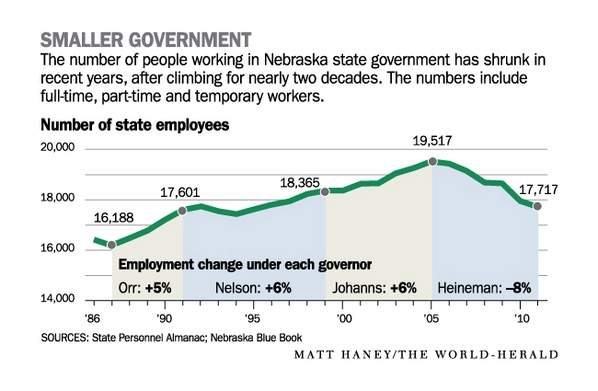 An Omaha World Herald article published yesterday reported that the number of Nebraskans employed by the state in 2012 sits at a 17 year low.
During Gov. Dave Heineman's administration, 1,593 state jobs have cut, reducing the number of those drawing a state paycheck by 8 percent. Heineman attributes the dramatic decrease, the first since 1995, to increases in efficiency on the part of state agencies.
Fiscal challenges also played a role in decreased employment numbers. The budget gap the Legislature faced going into the 2011 Legislative session sat at almost $1 billion, the largest in state history. As part of their solution, Senators cut funding to many state agencies, putting a severe dent in their ability to hire new workers.
The decrease in state employees is consistent with a soon to be published OpenSky analysis finding that state spending, when compared to Nebraska's total economic output, has dropped $548 million since Fiscal Year 98-99. This means the state is stretching its budget, using less to fund state priorities, such as education and roads maintenance.
These findings, along with other analysis of changes in Nebraska's budget and spending, will be released as a part of Looking for Clarity: An Overview of Nebraska Budget and Tax Policy. This easy-to-read primer takes the confusion out of Nebraska's laws and tax codes and distills it into a concise, manageable summary of how Nebraska collects and spends funds. OpenSky also offers unbiased analysis and explanation about the strengths and weaknesses of Nebraska's fiscal policy.
Looking for Clarity: An Overview of Nebraska Budget and Tax Policy will be released to the public in the coming weeks.
Subscribers to our email list will be among the first to receive Looking for Clarity. Subscribe here.